BiNA Office Furniture • Online Shopping • Call: 516-248-5858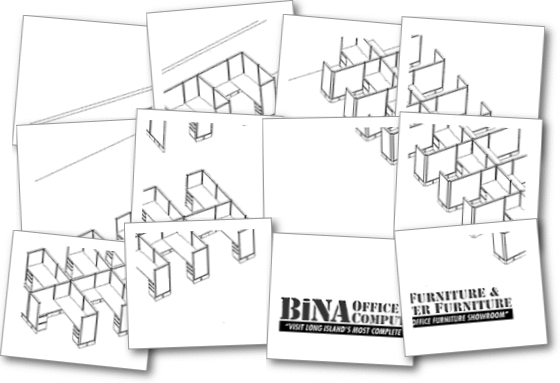 Got building?
We can help you make the most sense of your available
office space
& set your mind at ease. No use fretting over how to make the best use of your
office furniture plans
- just come on in and let our experts solve your space plans for you.
Pencil sketch or Architect, it's all English to us!
No mysteries to unravel. No confusion at all. All we need is you and the
approximate dimensions of your office space
. We'll work with you right away to make it happen - the desk, cubicle or conference table you need. Suss out the
reception desk
and
waiting room furniture
too. We've got it all here, all we need is you to tell us what you need and when.
It's that easy.
BiNA Office Furniture, Long Island, New York Showroom
<! -- exploded-plan-773472-773540.gif -->
Labels: 516-248-5858, conference room, delivery, design, discount, easy, floor plan, modular, ny, office planning, office space, waiting room
Discount Office Furniture Specials
<< Office Furniture DiscountsHome
What's in YOUR Office?
"Exit 39, Long Island Expressway.."
Your Prescription for Success? BiNA Office Furniture
Make Sense, Save Dollars
Get the latest Office Furniture News
In a Hurry?
Cruise into our Showroom
A Chair and Desk for Every Cubicle
Best of Mineola: BiNA Office Furniture
Visit Our Huge Showroom
Discount Office Furniture Dealer metro New York City and Long Island, NY. Visit Long Island's Most Complete Office Furniture Showroom, today! Call BiNA Office Furniture 516-248-5858