BiNA Office Furniture • Online Shopping • Call: 516-248-5858
Choose Height; 36"Wide Bookcase, approx 12"D
Now at BiNA Office Furniture in New York:
Choose your bookcase height and shelf thickness. All shelves adjustable height; 30" high wood doors available for any unit in this series for only $85 additional. No assembly required. Visit NY showroom to view floor models and other styles, sizes, colors of bookcases. We've got the bookcases for your home office or business office library.
Order Your Bookcase Now: 516-248-5858
Wood Bookcase Sale Price List
Featuring adjustable shelves and many wood finishes to choose from.
Available Bookcase Options
30"H Wood Doors
Traditional Trim Kit
Additional Shelf
30"H Wood doors available for any of the above bookcases; Also dress up your bookshelves with a traditional trim. Visit our Call to Order Online for complete selection and styles, options available for all of our office furniture bookcases.
Labels: bookcase, bookcases, bookshelf, bookshelves, wood
Transitional Style Cherry Veneer Office Suite
Complete Set ONLY $2199 **SOLD OUT**
Limited Time Special Sale Price 1850 **SOLD OUT**
Thank you for making this a popular selection. It is now sold out, please view our current specials page for current great deals and value specials.
72" Wood Desk,
72" Wood Credenza,
72" Wood Hutch with Glass Doors and Shelves,
Wood Modesties
Wood Bridge
72" Wood Desk Double Pedestal with Black Modesty Special $599 **SOLD OUT**

2-Drawer Lateral File Cabinet, Cherry Wood Finish: Each $379 **SOLD OUT**.
Special Sale price $309 **SOLD OUT**

Wood Frame Side Chair with Black Fabric: Wood Chair for just $149 **SOLD OUT**

72" Double Pedestal Kneespace Credenza Wood with Black Modesty $699 **SOLD OUT**

72" Wood Hutch with Glass Doors and 4 Adjustable Glass Shelves, $699 **SOLD OUT**

Other items and options available — Visit our 30,000 sq ft New York Showroom for complete details.
Labels: cherry, sale, specials, wood
Come to
BiNA Office Furniture Online
, and choose the
best storage solution
for your office document needs:
Looking for
X-ray or Patient File Cabinet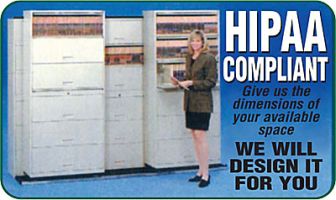 Labels: bargain, bookcase, bookcases, bookshelf, bookshelves, file cabinet, floor plan, HIPAA, inexpensive, medical office, office planning, quality, quick, shelving, wood, wood bookshelf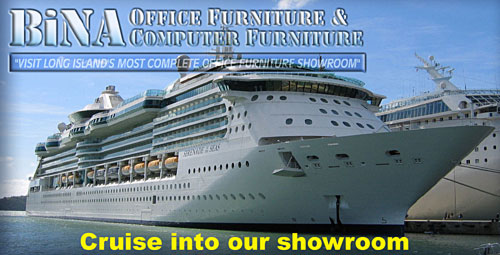 30,000 Square Feet Can't Be Wrong
Don't daydream about the office of your dreams - cruise into BiNA Office Furniture Online and let us show you how easily it can be done. Whether you're looking for a traditional conference table with captain chairs, or embarking on a new cubicle office project, we're the deckmates you want on hand to make for smooth sailing in your office expansion or transition.
We specialize in taking extra care to make sure you meet your moving milestones and get your office up and running without any icebergs or torpedoes!
Call
516-248-5858

to make your appointment now, or visit our Long Island, New York showroom today!

Labels: budget, cockpit, conference furniture, executive chair, new york, ny, office planning, office space, reception desk, showroom, storage, wood, wood furniture
We're the office furniture professionals right here in Nassau County, Long Island
Make your WORKSPACE into your WORKPLACE
Work with our experienced sales staff and office furniture planners to design your prized corner office, your executive conference room, office cubicle area, file cabinet storage room and much more. Come see our fabulous reception desks and conference tables! Don't forget the bookcase! Tell us what kind of office chair you need - we've got office chairs for every room and every function and person.
Warmth and Elegance. Make a statement that represents YOU
Visit our 30,000 square foot showroom and SEE the quality, feel the finish. KNOW what you're buying for your executive offices is what you expect in quality, value and price.
Labels: conference room, executive chair, executive desk, file cabinet, floor plan, mahogany, office space, quality, reception desk, wood, wood bookshelf, wood desk
Call 516-248-5858
Traditional Wood Desk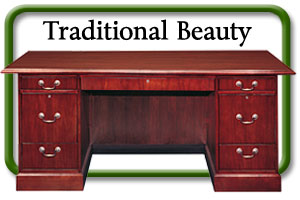 Quality and elegance at a price you'll admire too! Click any image to see the package price.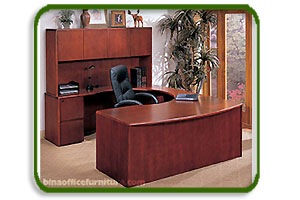 U-Shaped Wood Desk
But don't just click on pictures, come in to our showroom and see the beauty of wood office furniture yourself.
Cherry Finish Wood Desk and Credenza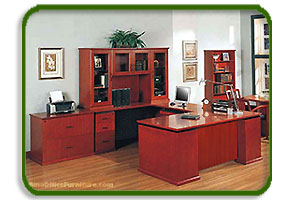 We've got something here for every office and every budget. BiNA Office Furniture, Call to Order Online, Mineola-Garden City NY 11501.
Labels: beauty, budget, cherry, cockpit, easy, mahogany, modular, office space, specials, u-shape, wood, wood desk, wood furniture

One of life's perplexing challenges should not be what kind of chair you should buy. Ultimately it's your seating style and preference that matter most. But just in case you're trying to make an office suite of more than one, we carry a lot of chairs for just about every office style and temperament.
Traditional Chair
- OR -
Contemporary Chair
Browse some of our
current hot specials and real red hot deals
, then come in to our showroom to "seat" for yourself!
Labels: chair, conference room, cubicle, guest chair, leather, mahogany, walnut, wood
How can we impress you?
Featuring stylish curved panel legs and dark inlay on cherry wood finish, this conference table will be the topic of conversation at every meeting! Shown here as 96" (8 feet) long by 42" wide, seats eight in style and comfort. We also carry an extensive selection of conference room chairs and other matching items in our 30,000 sq ft Call to Order Online.
Come See @ Showroom
Other sizes available. Visit our showroom for complete details and see it for yourself.
Labels: cherry, conference furniture, conference room, conference table, specials, wood, wood furniture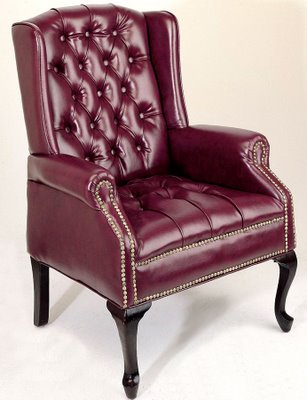 Long Live the Queen
Your Price: $234.96
List Price: $335.66 (Save 30%)
Thick padded seat and back, and padded armrests with nailhead trim are what make this executive chair distinctive. Mahogany finish curved wood legs complete the Queen Anne traditional style, shown here in Oxblood Vinyl.
Mahogany finish wood legs, padded armrest, thick padded seat and back covered in oxblood vinyl and decorative brass accents - all these details add up to one completely luxurious chair in traditional Queen Anne style. This deluxe office chair will add instant class and cozy warmth to your office space while providing comfortable seating day in and day out.
Labels: chair, guest chair, home office, long island, office space, waiting room, wood
It's an election year so we're giving you a choice:
Wood Frame Guest Chair with Black Leather Seat & Back:
*** SOLD OUT *** Other models available in our New York Showroom
It's Your Choice New York!
Buy either for 149. Or buy both - they work well together any setting.
Labels: beauty, chair, leather, wood
One Picture Speaks a Thousand Words
BiNA Office Furniture in New York:
Beautiful symmetrically styled traditional molding wraps around the top of the front and sides of our 72"H or 84"H Mahogany, Medium Cherry, or Walnut Bookcase, meeting at mitered edges.
Labels: bookcase, bookshelf, cherry, mahogany, walnut, wood, wood furniture
Enjoy the beauty of wood furniture with your own cockpit U workstation, also available with a hutch: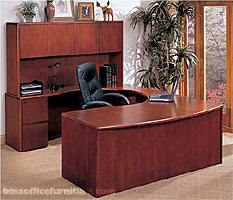 Special sale price on this
wood office furniture set
— Delivery available to all New York City boroughs and all of Long Island, NY.
Be sure to also check out our current special transitional style
wood desk set in cherry wood finish
— both available at a red hot price for a
limited time only!
Visit our showroom in NY to see the beauty of wood.
Wood frame chairs, tables and other wood office furniture
also available, to suit your
style and budget
.
Labels: cockpit, u-shape, wood, wood desk
Discount Office Furniture Specials
<< Office Furniture DiscountsHome
Wood Bookcase in Cherry, Mahogany, Oak, and Walnut finishes
Cherry Wood Veneer U-Shaped Workstation: Series Sale!
Will you store it for a while? Will you store a legal file?
Cruise into our Showroom
Quality Executive Office Furniture
Triple Play: 3 Wood Office Furniture Specials
Get out of the Hot Seat - Get Something Cool
Rectangular Wood Conference Table with Inlay Top
Traditional Elegance, Executive Comfort
Wood and Leather Country Club Chair
Traditional Wood Trim Bookcase
Beautiful Wood U-Shape Workstation Desk
Discount Office Furniture Dealer metro New York City and Long Island, NY. Visit Long Island's Most Complete Office Furniture Showroom, today! Call BiNA Office Furniture 516-248-5858