BiNA Office Furniture • Online Shopping • Call: 516-248-5858
Workstation Colors: Choose Your Desk, New York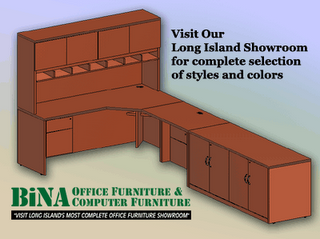 Traditional Mahogany Finish
Classic office furniture in wood grain hues or real wood finishes are always a popular style. We carry traditional and contemporary desks for your home office or place of business. Visit our New York Showroom to experience firsthand the quality and beauty of wood and compare to the versatility of colors and durability of top quality laminate office furniture.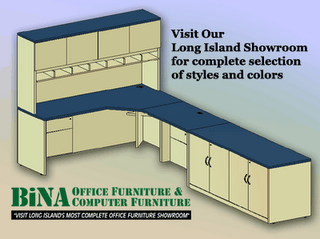 Semi-Custom Design
After all, who's to say you just might be feeling blue about wood tones after all? We can get a desk for you in a variety of colors and sizes, to suit your cosmopolitan office or your suburban home.
Labels: desk, new york, workstation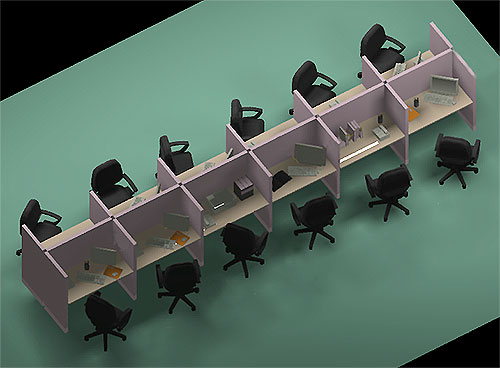 Chair, Desk, Cubicle
Well it's a gold medal election year, so why not tout our own campaign promises? We're proud of our huge showroom selection of office chair, desk and cubicle options for your home office or business office suite.
We offer you this Olympic lineup: of an executive leather chair, a traditional wood desk, and modern office cubicle — which one gets the gold medal in your office plans this year?
Visit our Long Island, NY showroom today to find your winning candidate for this term's fiscal budget!
Labels: budget, cubicle, desk, ny, quality
Conference Room Furniture
Conference Tables
Perhaps Napolean would never have met his Waterloo had he sat down and talked things out around one of our oval racetrack conference tables. Plan for the next successful campaign of your own design, by visiting our New York office furniture showroom and selecting the table for your conference room and appropriate conference room chairs for your client meetings and budget.
"Size Up and Ship Out!"
Let us know your conference room dimensions and number of persons you wish to seat, we can help you choose from our selection of conference tables, and get you back to business without delay. Our professional fleet delivery is always ready to take charge of project to get you setup and ready for clients and staff meetings with pizazz!
"Chair Your Own Board!"
Choose from high back leather chairs to simple fabrics, we have a showroom full of chairs for you to SIT in and TRY out in person, not just guess via some webpage picture. Plus we never charge you for chair assembly, so get your quality chairs setup for free regardless of which model you buy. Suit the needs of your conference room table, whether traditional rectangular wood table, or an oval racetrack or boat-shaped conference table, our showroom has a fine selection for you to choose from in various colors and finishes.
Labels: conference furniture, conference room, conference table
Discount Office Furniture Specials
<< Office Furniture DiscountsHome
Got the Mahogany Blues?
A Chair and Desk for Every Cubicle
Conference Room Magic
Discount Office Furniture Dealer metro New York City and Long Island, NY. Visit Long Island's Most Complete Office Furniture Showroom, today! Call BiNA Office Furniture 516-248-5858