BiNA Office Furniture • Online Shopping • Call: 516-248-5858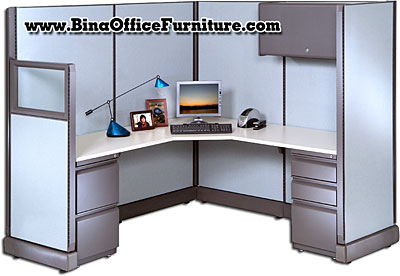 Why Buy Used Herman Miller Cubicles?
You don't have to buy Herman Miller used cubicles, when you can buy our lookalikes NEW for a lot less!

At Bina Office Furniture — You can have have our quality budget office cubicle design in your office.. NEW!
Quick...
Choose from our in-stock program and get your cubicles quickly and affordably.
Easy...
Bring in your office floor plan or give us the general space requirements you are working with, we can help you pull together your cubicle office plan quickly and easily.
Selection..
Choose your fabric colors, file drawers and overhead flipper storage or shelf, and even powered raceways. "It's your office, you can cubicle if you want to!"
Visit Our Showroom
View our floor models and color samples. Select your styles and features. Work with our expert sales team to build the office you need and you can even rely on our own professional fleet installers to deliver and setup your cubicle or office desk layout for you. That's the Bina Office Furniture cubicle program!
Labels: budget, cubicle, easy, new york, quick
More Office Furniture Specials
Why buy Herman Miller used cubicles?
DO CALL US: Telemarketing Cubicle Workstation
Corner Cubicle Workstation
No Need to Buy Used Cubicles - Get them NEW for LESS!
A Chair and Desk for Every Cubicle
How To Draw A Floor Plan to Scale
Hate Your Office? Want A Change? We Can Help!
Quality Office Furniture Dealer serving all New York City and all Long Island, NY. Visit Long Island's Most Complete Office Furniture Showroom, today! Call BiNA Office Furniture 516-248-5858