BiNA Office Furniture • Online Shopping • Call: 516-248-5858
Visit Our Showroom
Why Just Click on Pictures? — Come in and SEE What You're Buying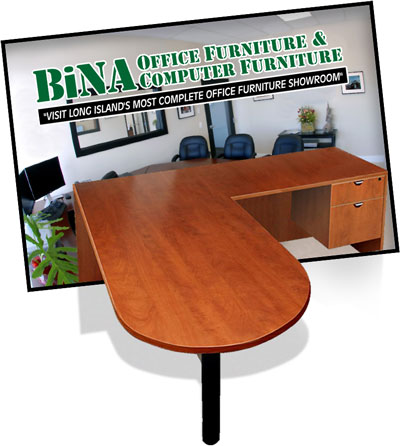 Great Value and Selection
BiNA Office Furniture is the real deal! You can browse our site to get a sense for the broad variety and depth of selections, but that's just the beginning! We've got a huge showroom full of even more selections, options and styles for you to find, plus our highly experienced cadre of office furniture experts to assist you in putting together the right office you need at the budget you wish to keep.
Shop for Current Specials
We've always got the right deals for you, and the best values in office furniture for your needs. Bring in a 516-248-5858, computer desk, conference room, desk, modular, new york, office desk, office furniture, wood desk, workstation
BiNA Office Furniture Online: It's Not an Avatar, It's Real
Discount Office Furniture Specials
<< Office Furniture DiscountsHome
Win Big with our Racetrack Conference Tables
What's in YOUR Office?
Cherry Wood Veneer U-Shaped Workstation: Series Sa...
Santa Was Here
"Desk" Your Halls .. with Cubes from BiNA
BiNA Best of Long Island 2010
Happy Holidays, from BinaOfficeFurniture.com
Divide and Conquer Your Office
We'll make your office space into your office plac...
"Exit 39, Long Island Expressway.."