BiNA Office Furniture • Online Shopping • Call: 516-248-5858
It's not an office until we furnish it
Visit BiNA Office Furniture's Long Island, New York showroom.
We'll take your office space and help you make it into your own office furniture place!
BiNA Office Furniture,
http://BinaOfficeFurniture.com

image © 2009 binaofficefurniture.com
Labels: 516-248-5858, beauty, design, desk, executive desk, floor plan, furniture moving, home office, modular, new york, office planning, quality, reception desk, showroom, specials
Seeking Office Furniture in New York?
"Visit Long Island's Most Complete Office Furniture Showroom"
BiNA Office Furniture's 30,000 square foot showroom
has an abundance of quality values and special deals for every business and office in New York!
So why are you reading this? Come to
254 E Jericho Turnpike, 11501
now.
Just off
Exit 39 LIE, Glen Cove Road exit. Full map and directions
to showroom.
Labels: 516-248-5858, long island, new york, ny, showroom, specials, value
There's an old engineering adage about project success, that given the tri-metric parameters of quality you could only chose two because the three terms compete, in a sort of "project triangle"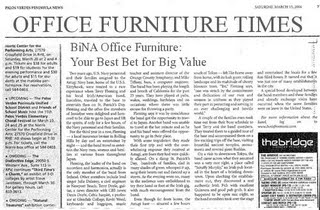 Yet given the scope of accountability you have for your business, you really DO need it all:
QUALITY - PRICE - SERVICE
and that's what you get from
BiNA Office Furniture
:
Great Quality, Great Price and Great Service
Because when it comes down to it, there's no other person we need to satisfy more than you, our next customer.
Come to BiNA
and understand our leadership in office furniture quality, service, price — ultimately yielding you
total project VALUE
.
image courtesy
project triangle
Labels: 516-248-5858, bargain, design, discount, easy, inexpensive, quality, service, value
Discount Office Furniture Specials
<< Office Furniture DiscountsHome
We'll make your office space into your office place!
"Exit 39, Long Island Expressway.."
@BiNA = Quality, Price, Service
Discount Office Furniture Dealer metro New York City and Long Island, NY. Visit Long Island's Most Complete Office Furniture Showroom, today! Call BiNA Office Furniture 516-248-5858