BiNA Office Furniture • Online Shopping • Call: 516-248-5858
It's "B-Day" — Every Day
Steam into BiNA Office Furniture for the project help and products you need to master and command the business you operate.


Office Furniture Design and Planning
Office Cubicles, Credenza, Conference Tables
Browse our online arsenal of office furniture you need today and every day to make your business declare Victory! Visit our showroom for complete selection and details on every item we sell.
Labels: 516-248-5858, beauty, cubicle, delivery, executive desk, floor plan, furniture moving, new york, office desk, office furniture, office planning, office space, partition, workstation
Visit Our Showroom
Why Just Click on Pictures? — Come in and SEE What You're Buying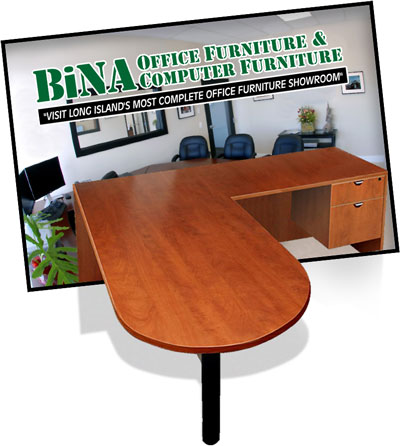 Great Value and Selection
BiNA Office Furniture is the real deal! You can browse our site to get a sense for the broad variety and depth of selections, but that's just the beginning! We've got a huge showroom full of even more selections, options and styles for you to find, plus our highly experienced cadre of office furniture experts to assist you in putting together the right office you need at the budget you wish to keep.
Shop for Current Specials
We've always got the right deals for you, and the best values in office furniture for your needs. Bring in a 516-248-5858, computer desk, conference room, desk, modular, new york, office desk, office furniture, wood desk, workstation
Discount Office Furniture Specials
<< Office Furniture DiscountsHome
Deploy Your Next Office Engagement with BiNA Office Furniture
It's Not an Avatar, It's Real
Discount Office Furniture Dealer metro New York City and Long Island, NY. Visit Long Island's Most Complete Office Furniture Showroom, today! Call BiNA Office Furniture 516-248-5858