BiNA Office Furniture • Online Shopping • Call: 516-248-5858
Workstation Colors: Choose Your Desk, New York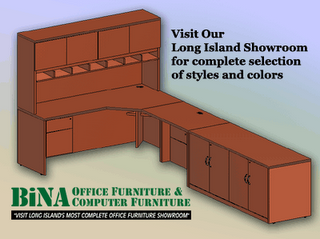 Traditional Mahogany Finish
Classic office furniture in wood grain hues or real wood finishes are always a popular style. We carry traditional and contemporary desks for your home office or place of business. Visit our New York Showroom to experience firsthand the quality and beauty of wood and compare to the versatility of colors and durability of top quality laminate office furniture.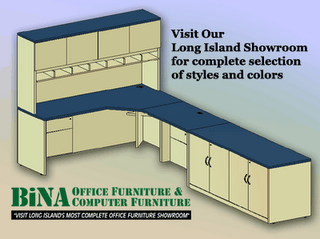 Semi-Custom Design
After all, who's to say you just might be feeling blue about wood tones after all? We can get a desk for you in a variety of colors and sizes, to suit your cosmopolitan office or your suburban home.
Labels: desk, new york, workstation
BiNA Office Furniture Online: Got the Mahogany Blues?
Discount Office Furniture Specials
<< Office Furniture DiscountsHome
A Chair and Desk for Every Cubicle
Conference Room Magic
Best of Mineola: BiNA Office Furniture
HIPAA Compliant Medical Filing
How To Arrange Your Furniture
How To Draw A Floor Plan to Scale
Hate Your Office? Want A Change? We Can Help!
'Best of Long Island' Best Home/Office Furniture
Beautiful Wood U-Shape Workstation Desk
Visit Our Huge Showroom