BiNA Office Furniture • Online Shopping • Call: 516-248-5858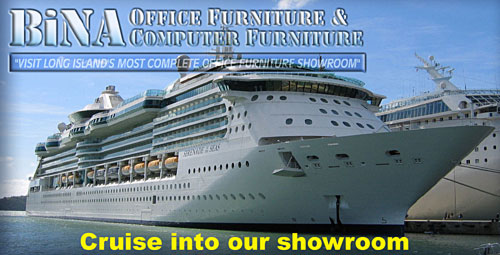 30,000 Square Feet Can't Be Wrong
Don't daydream about the office of your dreams - cruise into BiNA Office Furniture Online and let us show you how easily it can be done. Whether you're looking for a traditional conference table with captain chairs, or embarking on a new cubicle office project, we're the deckmates you want on hand to make for smooth sailing in your office expansion or transition.
We specialize in taking extra care to make sure you meet your moving milestones and get your office up and running without any icebergs or torpedoes!
Call
516-248-5858

to make your appointment now, or visit our Long Island, New York showroom today!

Labels: budget, cockpit, conference furniture, executive chair, new york, ny, office planning, office space, reception desk, showroom, storage, wood, wood furniture
BiNA Office Furniture Online: Cruise into our Showroom
Discount Office Furniture Specials
<< Office Furniture DiscountsHome
Quality Executive Office Furniture
No Project Too Big for BiNA Office Furniture
Triple Play: 3 Wood Office Furniture Specials
Buy Now: Conference Table Sale
Get out of the Hot Seat - Get Something Cool
Leather Seat Sale Specials
Create Your Own Health Care Reform...
Visit Our 30,000 Square Foot Showroom
What can we design for you today?
Rectangular Wood Conference Table with Inlay Top