BiNA Office Furniture • Online Shopping • Call: 516-248-5858
Call BiNA Today!
Professional Fleet Delivery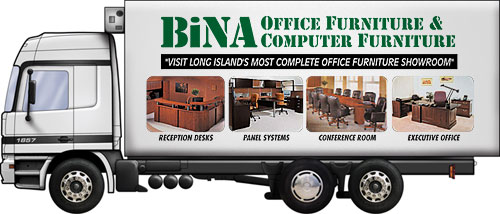 Come to BiNA Office Furniture, Today!
Experience the relief of our
professional fleet delivery
and inside setup, working with you to make your deadlines disappear.
Call
516-248-5858
or visit
http://BinaOfficeFurniture.com
to get your project rolling .. Now!
Labels: cubicle, delivery, easy, new york, quick, showroom
BiNA Office Furniture Online: When you needed it yesterday..
Discount Office Furniture Specials
<< Office Furniture DiscountsHome
In a Hurry?
Pass GO! Get Great Cubicle Deals @BinaOfficeFurnit...
Cruise into our Showroom
Quality Executive Office Furniture
No Project Too Big for BiNA Office Furniture
Triple Play: 3 Wood Office Furniture Specials
Buy Now: Conference Table Sale
Get out of the Hot Seat - Get Something Cool
Leather Seat Sale Specials
Create Your Own Health Care Reform...