BiNA Office Furniture • Online Shopping • Call: 516-248-5858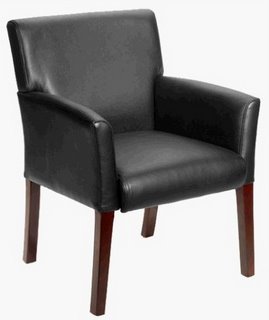 Be Our Guest
See in Showroom
When you want to impress your visitors and give them due respect, give them a quality guest chair to sit it. Your business is OUR business - our success is your success - When you host your clients and associates, let them see and feel the prestige of your business with durable office chairs and desks from
BiNA Office Furniture, New York
Shown mid-back box arm chair upholstered with ultra soft and durable caressoft upholstery. Mahogany wood finish legs and base with black cushions that are so comfortable! Come in and SEAT for yourself!
Labels: beauty, chair, executive chair, loveseat, specials
BiNA Office Furniture Online: Mid-Back Upholstered Arm Chair
Discount Office Furniture Specials
<< Office Furniture DiscountsHome
Browse Products Online
High Back Traditional Swivel Armchair
High Back Desk or Conference Room Chair
Best of Mineola: Office Furniture
Waiting Room Furniture
Ergonomic. Ecologic. Economic.
Clean Up Your Office Space!
Make Us YOUR Office Furniture Place
Follow us on twitter @ NYdesk
Hurry in and Save!